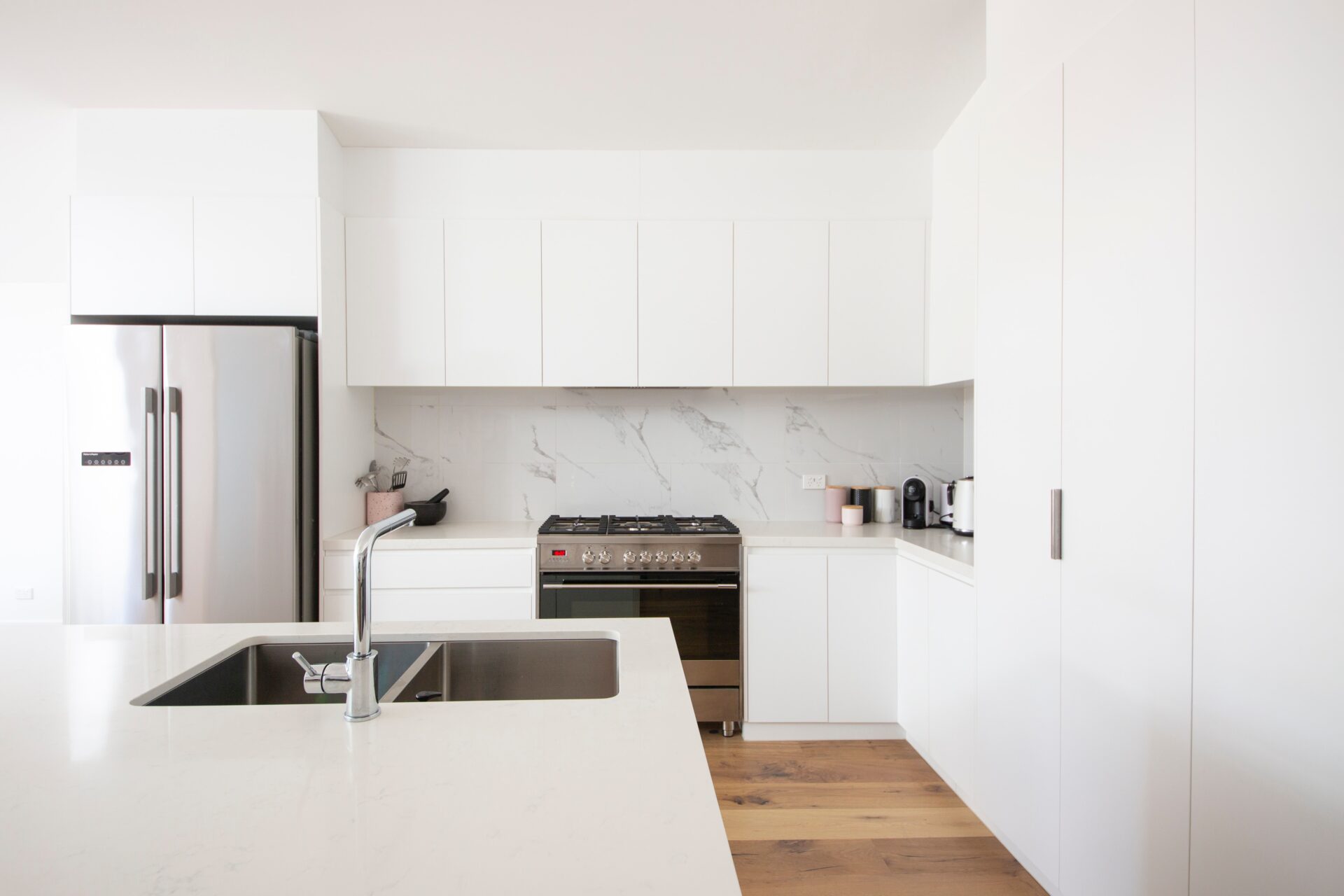 5 ways to reduce costs even more with Ikea kitchen cabinets
If you're planning a kitchen renovation or new build, you may be looking for ways to save money without sacrificing quality. One option to consider is an IKEA kitchen. IKEA is a famous home furnishings company that offers a wide range of affordable kitchen products, including cabinets, countertops, appliances, and accessories. Here are some quick tips for saving money with an Ikea kitchen:
Shop sales and discounts: IKEA frequently offers sales and discounts on its kitchen products, so keep an eye out for deals and promotions. Signing up for the company's newsletter can also help you stay informed about current and upcoming sales.
Choose basic cabinets: IKEA offers a range of cabinet options, from basic to high-end. If you're looking to save money, opt for the basic cabinets, which are still made from high-quality materials but at a lower price.
Go with laminate countertops: IKEA offers a range of countertop materials, including granite, quartz, and laminate. Laminate is the most affordable option and can still provide a stylish and durable surface.
Buy used or refurbished appliances: If you need to replace your appliances, consider buying used or refurbished products. These can often be found at a lower price than brand-new models and can still be in good working condition.
With some planning and creativity, you can create a functional and beautiful space that fits your budget. Do you need guidance on choosing the IKEA kitchen cabinets that fit your budget?
This article offers further in-depth ideas and tips to help you navigate the most desirable choices when renovating your kitchen with IKEA cabinets. Following these tips, you can save money on your KEA kitchen without sacrificing quality or style. Sometimes savings are all about the wood species you pick, the number of drawers you include in your design, and the door finish. If you've ever needed to reduce kitchen remodeling costs, kitchen cabinets take a big chunk of your budget. If you have ever renovated a kitchen on a budget, you know how difficult it is to find durable but esthetic materials. Being able to choose the cabinets is an essential skill for all homeowners, but when you've got so many choices and inspiration, it can be tricky!
Here is a breakdown of these five significant ways to save.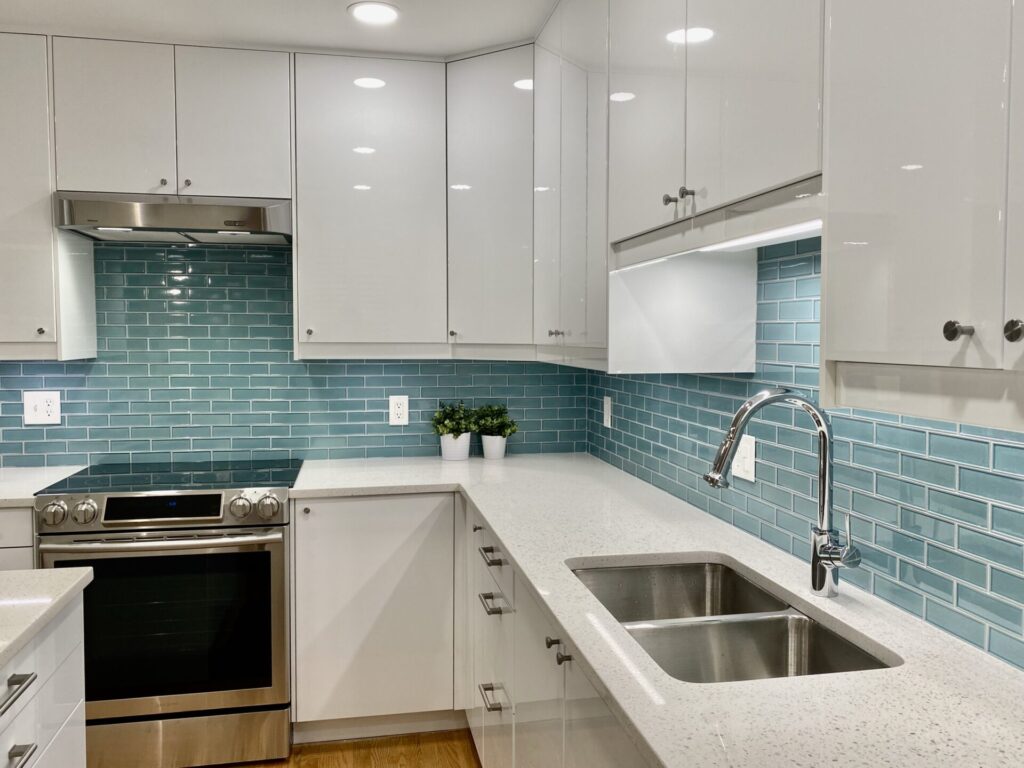 1.Consider IKEA kitchen fronts cabinets covered with Plastic foil or acrylic paint
IKEA kitchen cabinets come with a wide range of cabinet styles, materials, and finishes, including options for fronts covered with plastic foil or acrylic paint. Each option has its advantages and drawbacks, and the best choice for your kitchen depends on your specific needs and preferences.
One option for covering IKEA kitchen cabinets is plastic foil. This material is a thin, flexible film that is applied to the surface of the cabinets using heat and pressure. It is available in various colors and finishes, including high-gloss, matte, and wood grain. Plastic foil is easy to clean and maintain and is resistant to water, heat, and stains. It is also a budget-friendly option, as it is less expensive than other cabinet finishes.
Another option for covering IKEA kitchen cabinets is acrylic paint. Acrylic paint is easy to clean and maintain and is resistant to water, heat, and stains. It is also durable and can hold up well to heavy use. It is available in many colors and finishes, including gloss, matte, and satin.
IKEA most certainly has quite a few colors and styles in thermofoil, and, thermofoil is more scratch-resistant and more durable the wood or plywood. If you have little ones chasing each other around the kitchen island or if they decide to use your kitchen doors and a blank canvas for their "art," plastic foil is the easiest material to clean.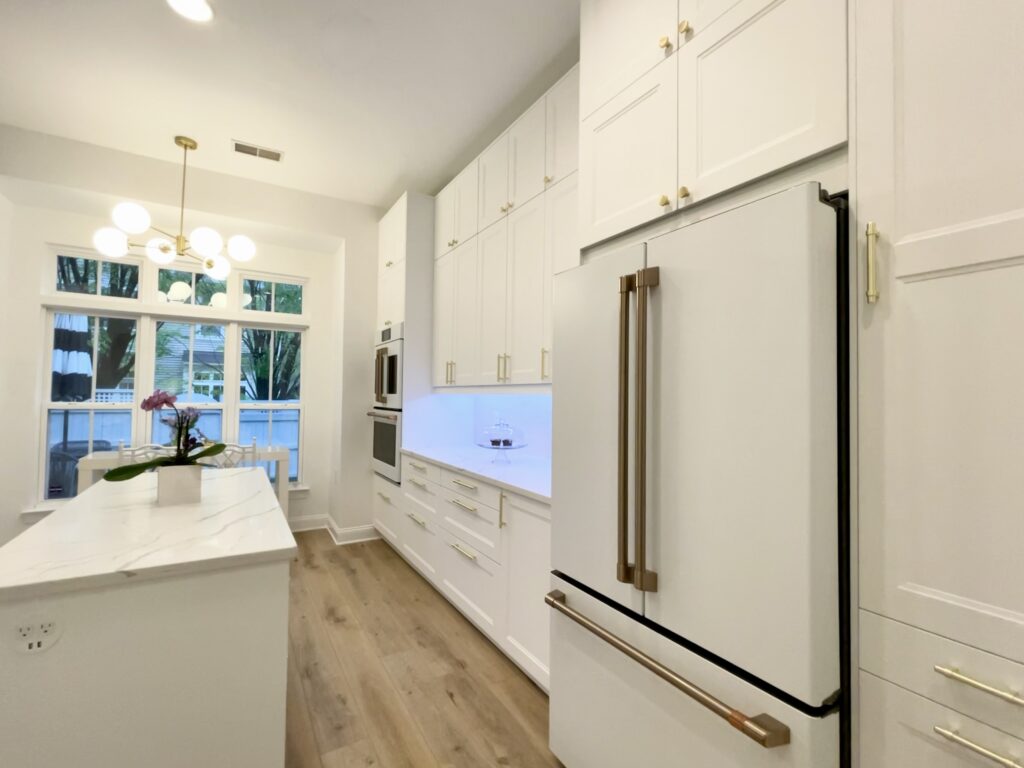 One of the most popular doors is AXSTAD. This door style has a matte, white surface with soft lines and an inset panel. The design allows you to use it to create both a modern and traditional kitchen.
Foil gives a smooth and practical surface that is resistant to moisture and staining and is easy to clean.
The second affordable option IKEA has to offer is painted doors with acrylic paint. Another popular door style is BODBYN due to the richness in detail and the excellent price point. The beveled panel of this door gives any kitchen a traditional, warm and cozy appearance. You don't have to spend money on additional details like moldings and corbels since this door already has plenty of embellishment and style for a traditional look.
Lacquered doors are smooth and seamless, and the BODBYN line comes in three colors: white, grey, and, most recently added, green.
Overall, both plastic foil and acrylic paint can be good options when choosing IKEA kitchen cabinets. The best choice for your kitchen will depend on your specific needs and preferences, including your budget, design style, and intended use of the cabinets.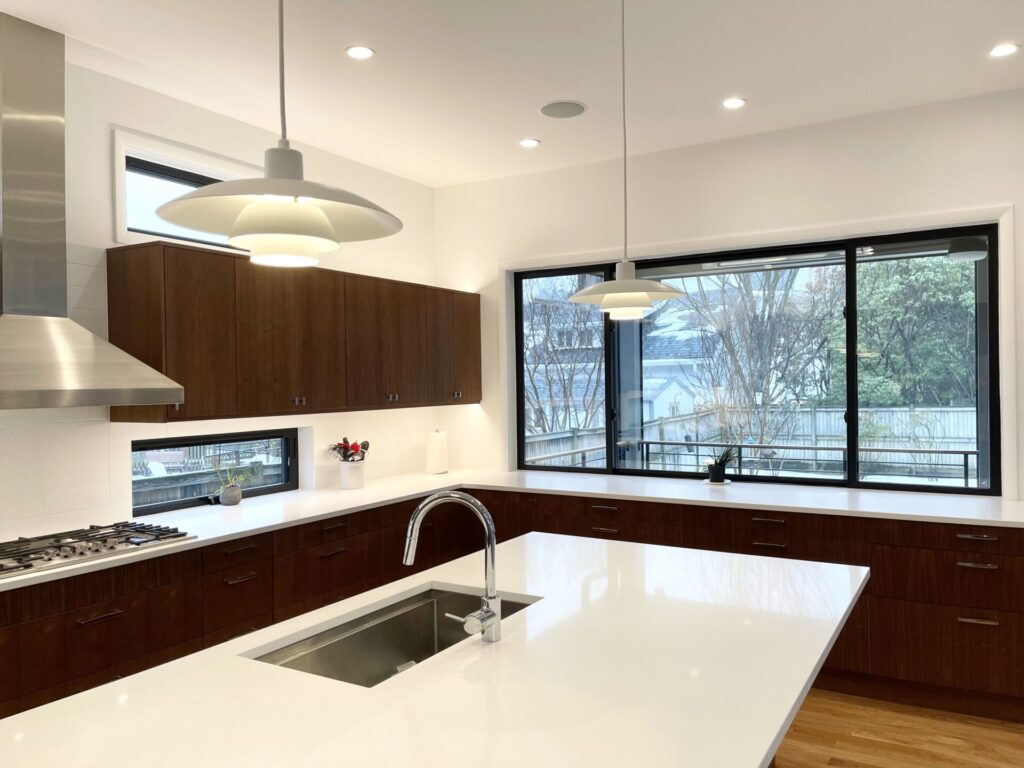 2.Ikea Kitchen Drawers vs. doors: what is cheaper
When working with IKEA kitchens, establishing how kitchen cabinetry meets one's storage needs is one of the more important decisions a homeowner or designer must make in the planning stages. Choosing IKEA cabinetry with doors vs. drawers is an important decision, and if you follow these simple rules, the choice is relatively easy.
Generally, a kitchen cabinet with drawers is more costly than cabinet doors, which is the main drawback. Mixing and matching doors with drawers are the easiest ways to create a cost-effective but practical design. Most certainly, all kitchens need a certain amount of storage drawers. When designing an IKEA kitchen, make sure to include a few drawers in the right areas in your kitchen for cutlery and smaller items. A few top drawers in your IKEA kitchen may satisfy the storage needs of a smaller family or young couple. Also, including in the design cabinets with three large drawers and one top hidden drawer may be enough drawer space for a mid-size kitchen. An IKEA kitchen designer will determine the perfect drawer space in the planning stage. For example, a larger IKEA kitchen cabinet, like a 24″ or 30″ cabinet, will accommodate wide drawers with plenty of space. IKEA kitchen cabinets offer drawers for 12″ to 36 "wide cabinets.
There are several options to consider regarding kitchen storage, including kitchen doors and drawers. Each option has its benefits and drawbacks, and the best choice for your kitchen will depend on your specific needs and preferences.
One advantage of using kitchen doors is that they provide a more streamlined and cohesive look.
On the other hand, kitchen drawers offer several benefits as well. One advantage is that they can provide easier access to the contents of your cabinets. Instead of reaching up or bending down to access items stored behind doors, you can pull out a drawer to see everything at once. This can be especially helpful if you have mobility issues or are tall.
Another advantage of kitchen drawers is that they can provide more organization options. Drawers can be divided or lined with organizers to keep smaller items, such as utensils or cooking tools, in place. This can help prevent things from getting lost or cluttered in the back of a cabinet.
Ultimately, deciding to use IKEA kitchen doors or IKEA kitchen drawers will depend on your specific needs and preferences. Both options have their advantages and drawbacks, and the best choice for your kitchen will depend on the size and layout of your space, as well as your style and storage needs. You can choose your way of organizing kitchen items. You can feel good when choosing doors, knowing that oversized items like pots, pans, or small appliances may not fit as comfortably in drawers. In this case, kitchen cabinets with doors look not only they look elegant and classic, but they also offer taller storage. IKEA's cabinets come with optional shelves that you can install at the desired height, or you can even skip on the sleeves if you need to store a tall item inside a cabinet.
On the pro drawer side, due to ergonomics, drawers are easy to open with one easy move. Also, you could easily reach items stored in the back of the drawer. It will help if you discuss your budget with your IKEA kitchen designer. They will offer you the best advice in mixing and matching the right number of drawers and still reduce the overall costs of your IKEA kitchen remodeling.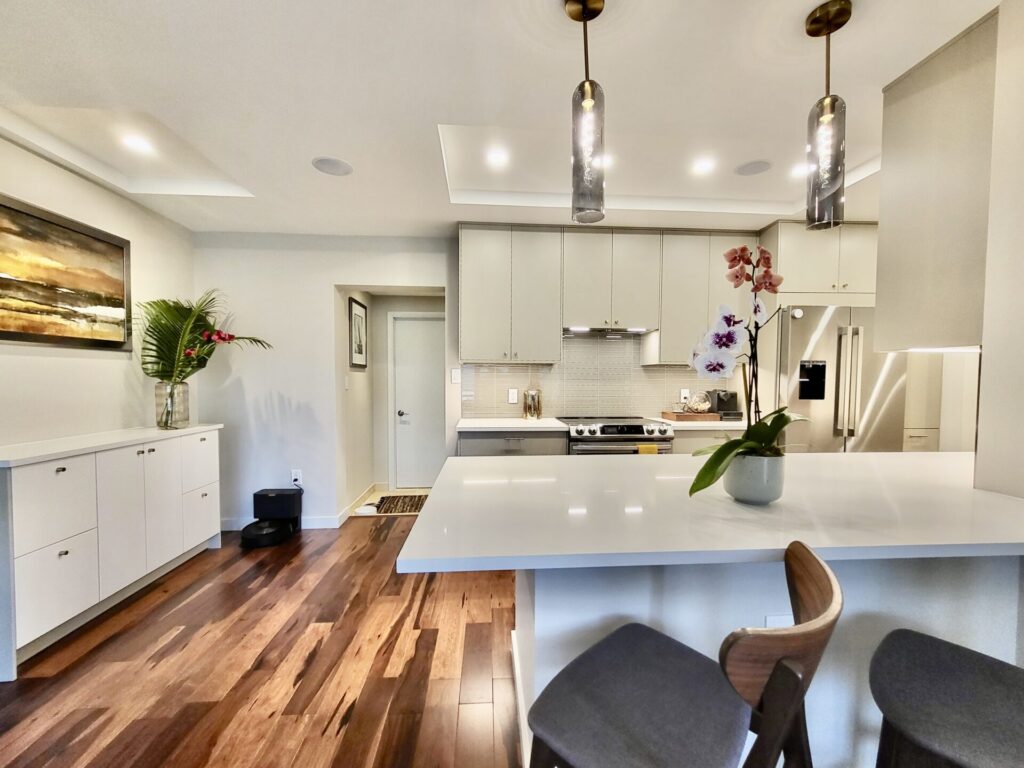 3.Open Shelving vs. IKEA kitchen wall cabinets saves costs and is trendy.
IKEA kitchens are well known for their budget-saving power, and to further increase your savings, you can choose open shelving in some areas or even throughout your kitchen. If you're looking to add storage to your kitchen but don't have the space or budget for traditional wall cabinets, one alternative option is to install shelves. Shelves can provide an efficient and cost-effective way to add storage and display space to your kitchen. Open shelving is definitively cheaper than cabinetry. You can spend as much on shelves as on cabinetry when the intent is achieving a specific look, but plenty of shelves will cater to any budget. If you have some experience, you can build your beautiful wood shelves yourself. Installing open shelving is not just cost-effective when purchasing a kitchen, it is also a great way to create symmetry in your space. The open-shelf trend has been widely used, loved, and implemented by kitchen designers, contractors DIY homeowners. IKEA kitchen enthusiasts have so many choices, especially since companies like Semihandmade have their line of matching shelves.
The open shelving concept was more popular in the past, mainly in bar areas. Still, the home design field is moving towards open spaces, decluttering, and minimalism, and it encourages us to become more artistic in how we create living spaces. Here are a few ways to install open shelving to help you achieve a beautiful, relaxed, clean look.
Flanking the range hood on both sides if the space allows or only on one side.
On each side of a window to allow for more natural light.
Throughout the length of a gallery-style kitchen for a modern design statement.
From the left or right side of a pantry cabinet running all the way continuously to the wall
For an even more aerated feel, centered on a section of the wall.
In a single row, two or three rows, depending on the height of the ceilings.
Overall, installing shelves instead of wall cabinets can be a practical and cost-effective way to add storage and display space to your kitchen. By choosing the right type of shelving for your needs and design style, you can create a functional and visually appealing space that meets your storage need.
Whether planning for a minor kitchen refresh or a large-scale kitchen remodeling, using IKEA kitchen cabinets and open shelves can save you quite a bit of $$.
4.Work with an experienced IKEA kitchen designer.
Working with an IKEA kitchen designer can be a beneficial option if you're planning to renovate your kitchen or build a new one. IKEA is a famous home furnishings company that offers a wide range of kitchen products, including cabinets, countertops, appliances, and accessories. Here are some benefits of working with an IKEA kitchen designer:
Of course, you can design your own IKEA kitchen. The IKEA software planner is relatively easy to learn and free to download. But, if you are honest with yourself and need more time or experience, planning and designing an IKEA kitchen may become a lengthy and frustrating process that may cost you if not done correctly from the get-go. Repairing mistakes does end up costing time and money. Using a specialist to design your kitchen may be the best and most practical thing you can do when starting to plan your IKEA kitchen remodel. Kitchens are the focus of a home sale, and since a well-designed kitchen will increase your home value hiring an IKEA kitchen design specialist is necessary. Here are a few key reasons why hiring an IKEA kitchen designer may save you money in the long run. A well-designed kitchen can look like you spend more money than you did. The same kitchen can look gorgeous or not, depending on these factors.
No to fillers: precise measurements of your kitchen are essential for a well-designed IKEA kitchen. An IKEA kitchen designer will avoid using fillers unless they are necessary.
Wall cabinets height: ensure you maintain a minimum of 18″ between the bottom of the cabinets and the countertop. You can install 40″ tall wall cabinets if your ceilings are 9 ft tall.
Mirror image top and bottom cabinets: symmetry when the bottom cabinets mirror the width of the top cabinets.
Expertise and experience: IKEA kitchen designers are trained and experienced in helping homeowners create functional and aesthetically pleasing kitchen spaces. They can provide valuable insights and recommendations based on their expertise and knowledge of IKEA products.
Customized design solutions: IKEA kitchen designers work with you to create a customized design plan that meets your specific needs and preferences. They can help you choose the right cabinets, countertops, appliances, and accessories to create a cohesive and functional kitchen.
3D visualization: IKEA kitchen designers use 3D visualization software to create a virtual rendering of your kitchen design. This can help you see how the finished space will look and make any necessary adjustments before installation.
Overall, working with an IKEA kitchen designer can provide various benefits, including expertise, customized design solutions, 3D visualization, budget-friendly options, and a streamlined process. By taking advantage of the services offered by an IKEA kitchen designer, you can create a functional and aesthetically pleasing kitchen space that meets your needs and budget. Our in-house IKEA Kitchen designer will help you choose unique finishes that complement any style. Start a conversation with us and book your Ikea Kitchen Design Appointment to receive a free, no-obligation estimate.
5.Wait for an Ikea kitchen sale.
An awaited IKEA kitchen sale event comes around three or four times a year, known by the IKEA connoisseurs only. There is a tight lip around this event, and IKEA workers will not confirm it before the sale starts. It is good to know that usually, these sales cover all kitchen-related items, including countertops and appliances, and it is all worth the wait if you can. If you have purchased your kitchen outside a kitchen sale, you go to IKEA with your receipt and family card and receive a discount in the form of a store card. First, get an IKEA family card, members receive a 90 days price guarantee, and if a sale rolls out in the next 90 days, IKEA will give you a cash-back store card for your next purchase. Remember you need that IKEA family card to qualify for the price guarantee and to get back 10-15%. There are two types of sales from what we have noticed during the IKEA kitchen sale event; the IKEA Gift card sale gives you back 10-15%, and the direct 10% discount sale.
Pro-tip benefit: We advise our customers to split the kitchen purchase into two stages and use the cash-back store card for the second purchase.
Or you can purchase your IKEA kitchen at any time of year, and when the sale comes around, head back to IKEA for a price adjustment. If you apply all the above cost-saving techniques and are willing to wait for a sale, you most certainly hit the jackpot.
Here is a recap of essential ways to save during an IKEA kitchen sale.
Taking advantage of the actual sale directly with the help of the family card.
Save time by going early in the day; If you can swing it, try to go on a weekday, with Mondays being the quietest. Mornings are always better, but any weekday is preferable to weekends. The IKEA personnel will have more time to review your design.
Another way to save time and money is to place the order by phone. All you will need is your finalized design. An IKEA kitchen agent will help you pull up your account and help order all the necessary IKEA kitchen parts.
Purchasing your kitchen ahead of an actual sale might save you a lot of time in terms of waiting for out-of-stock items and waiting in line for hours. If you are doing a major kitchen renovation, you can organize your contractors to start the work when it is most convenient instead of waiting for the actual sale.
We would love to work with you! From planning to designing to installing your cabinets and renovating your kitchen, you can let us do it all! At Hive Kitchen Remodeling, we'll design and create a space that fits your aesthetic and lifestyle. We'll put together a package with everything you need to make the ordering process at IKEA easy and breezy!
6.Choosing the right Ikea kitchen installer is critical to avoid costly mistakes.
If you're planning to renovate your kitchen or build a new one, consider hiring an IKEA kitchen installer to help with the installation process. Hiring a professional can be convenient and hassle-free to ensure that your kitchen is installed correctly and efficiently. Here are some things to consider when hiring an IKEA kitchen installer:
Look for experience and expertise: It's important to hire an IKEA kitchen installer who has experience working with Ikea products and understands how to install them properly. Look for an IKEA installer with a track record of successful installations which can provide references or reviews from previous clients.
Consider the scope of the project: The cost of hiring an IKEA kitchen installer will depend on the size and complexity of your project. Be sure to provide a clear and detailed scope of work to ensure you receive an accurate estimate.
Check for licensing and insurance: Make sure the contractor you hire is licensed and insured. This can protect you from any accidents or damage during the installation process.
Communicate clearly: good communication is key when working with a contractor. Make sure you understand the timeline for the kitchen installation and any changes or updates that may arise. Establishing clear expectations and communicating any concerns or preferences you have throughout the process is also a good idea.
Most homeowners and non-IKEA contractors are unfamiliar with IKEA kitchens, and companies specializing in IKEA kitchens are a godsend for anyone stuck during the design or actual cabinet installation process. Overall, hiring an IKEA kitchen installer can be a convenient and efficient way to ensure that your kitchen is installed correctly and to your satisfaction.
Your kitchen is the cornerstone of your home and the pulse of your daily home life. A professional IKEA installation team will customize your kitchen to perfectly fit your space, making a bold personal statement on your behalf while using flexible, sophisticated, and convenient IKEA cabinets to their fullest potential. IKEA Kitchen Installers will seamlessly assemble cabinets, drawers, and doors. Next, they install the cabinets, cover panels, and toe-kicks. They adjust all cabinet doors and drawer fronts for appearance. Understandably, you want your kitchen to say something about you and be as welcoming and accessible as possible. A custom kitchen can cost twice or three times more than an IKEA kitchen. A good carpenter will create little hacks so that your kitchen looks custom without spending money on a custom kitchen.
Try our kitchen design services if you need more clarification on your options. We offer a $350 measurement and design service, virtual assistance, and training for contractors and DIYers. And if you're having trouble measuring your kitchen, contact Hive Kitchen Remodeling.
Budget wisely!